 The story...
The legends about vicious storms an' sunken ships in the gentleman o' fortune cove be real! Rough sea still washes out gold an' gemstones to the shore every day. Crews o' gentlemen o' fortune from the furthest corners o' the seven seas be racin' in to get their share o' the buried treasures an' stuff their pockets with cash. To avoid ne'er endin' battles, gentlemen o' fortune 'ave developed a fair system o' sharin' the loot. This here be when piratewins wheel o' luck been born. The rest be 'istory...
---
That was our pirate speak. No worries, more explanations are waiting for you below!
Piratewins.io is an innovative rewards platform. Just like real pirates, our users don't need to pay in order to win! If may feel like a casino since a lot of luck is involved. However, participation is always free and without risking your own money. That's why we refill your gold coins neeed to spin the Wheel of Fortune, every time you run out of them. For free, forever!
Piratewins is all about the unique Wheel of Fortune. It has instant cash and gold coins wins as well as several min-games. Some of these games change regularly to make it even more fun!
That's not all! Scroll further down and you will see the Jackpot! Every player can receive tickets by spinning the Wheel and one of them wins the huge daily Jackpot!
We have hourly leaderboards so you could see how much our users win and get inspired. Any player can make it onto the leaderboard and there are high chances that the next one is you!
Good luck!
-Piratewins Captain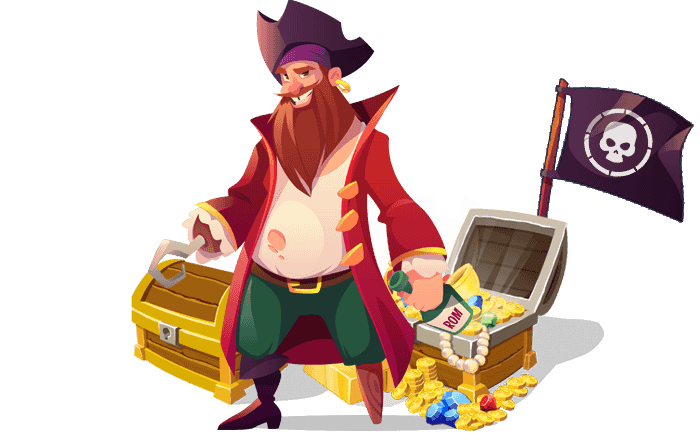 Default wheel of fortune payouts
| | |
| --- | --- |
| Cash | Instant random payout from $0.01 up to $10.00. |
| Gold | Instant random payout from 1 to 100 Gold coins. |
| Ticket | Adds 1 entry to the current jackpot. One random participant wins the whole jackpot each day. |
| Joker | Spin Joker 3 times in a row to get 1000 jackpot entries immediately. |
| Treasure | Launches additional game. Click on tiles, avoid bombs and win $0.15 to $1.5 per game. |
| Scratch | Launches additional game. Scracth the ticket and win $0.10 to $50 or 5 to 50 Gold coins depending on the result. |
| Chests | Launches additional game. Blindly choose one of the three chests. Two are empty and one contains prizes from $0.01 up to $5.00 per chest or up to $500 in Turbo mode. |
| Empty | No prize. |
Payouts are subject to our Terms of Service and winning algorithms and may vary for individual users.
Go back to website